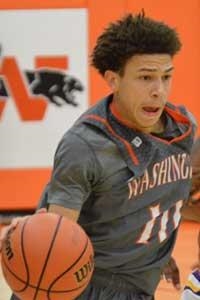 The Oglethorpe Tournament of Champions was once again filled with top teams, elite players and super highlights!  The following is a list of the 10 top Highlights from this year's event!
ZION WILLIAMSON of Spartanburg Day School put on the greatest performance in ToC History when soared to the bucket for a record-tying 50 points and 10 dunks in the Griffins victory over Proviso East.  Williamson finished the tournament with 117 points, 48 rebounds and an astonishing 21 slam dunks!   Williamson was named the Most Outstanding Player in the Washington Invitational and finished as one of the All-Time ToC Greats!
KEZIE OKPALA of Anaheim Esperanza lived up to the hype, scoring a record breaking 133 points in the tournament.   Okpala led his Aztecs to a 2nd place finish in the Washington Invitational with averages of 33.3 points and 10.5 rebounds per outing.  Okpala was named the MVP in the Washington Invitational.
CHICAGO UPLIFT was a high-scoring machine throughout the ToC.  Markese Jacobs, Demarius Jacobs and Toraze Dobbs were all named to the Washington Invitational All-Tournament team.  The Titans scored 106 points in a victory over Marmion Academy and won the Washington Invitational crown by defeating Anaheim Esperanza in the finale.
DEVIN WHITELOW of Washington finished his 4-year career in the ToC by becoming the event's career leader in assists and steals.  Whitelow was named to his 3rd consecutive ToC All-Tournament team and finished his career as the event's 4th all-time leading scorer.
COOPER NEESE v.  TAYLOR BRUNINGA was a tremendous small-school shootout matchup that more than lived up to the hype!  Cloverdale's Neese hit jumpers from 35 feet and scored 30 points as he led his Clovers to a 76-68 victory over Illini Bluffs.  The Tigers were led by Bruninga who finished his game with 37 points and 17 boards.
FRED CLEVELAND of Chicago Urban-Prep Englewood displayed amazing ball handling skills and deep range scoring as he led the Lions to the ToC Showdown title.  Cleveland was named MVP of the Showdown, averaging 15 points and 3 assists for the tournament.
CHRIS DUARTE of Redemption Christian was MVP of the National Classic as he led his teammates to the championship.  Duarte sees the floor very well and explodes to the basket on the break.  He is a future star guard at the next level.
The 3 best dunks of the ToC!  GOLD MEDAL– Zion Williamson of Spartanburg Day with 15 of his 21 slams.  SILVER MEDAL– Elliot Gongora of Uplift with the Dr. J sweep Dunk!  BRONZE MEDAL- Markese Jacobs of Uplift with the windmill.
All the record breaking performances of the week.
Sharing Thanksgiving with 240 ToC participants.  Thanks to Christy LaHood at Countryside Banquet Hall in Washington for the beautiful Thanksgiving meal prepared for all the teams!  Thank you!